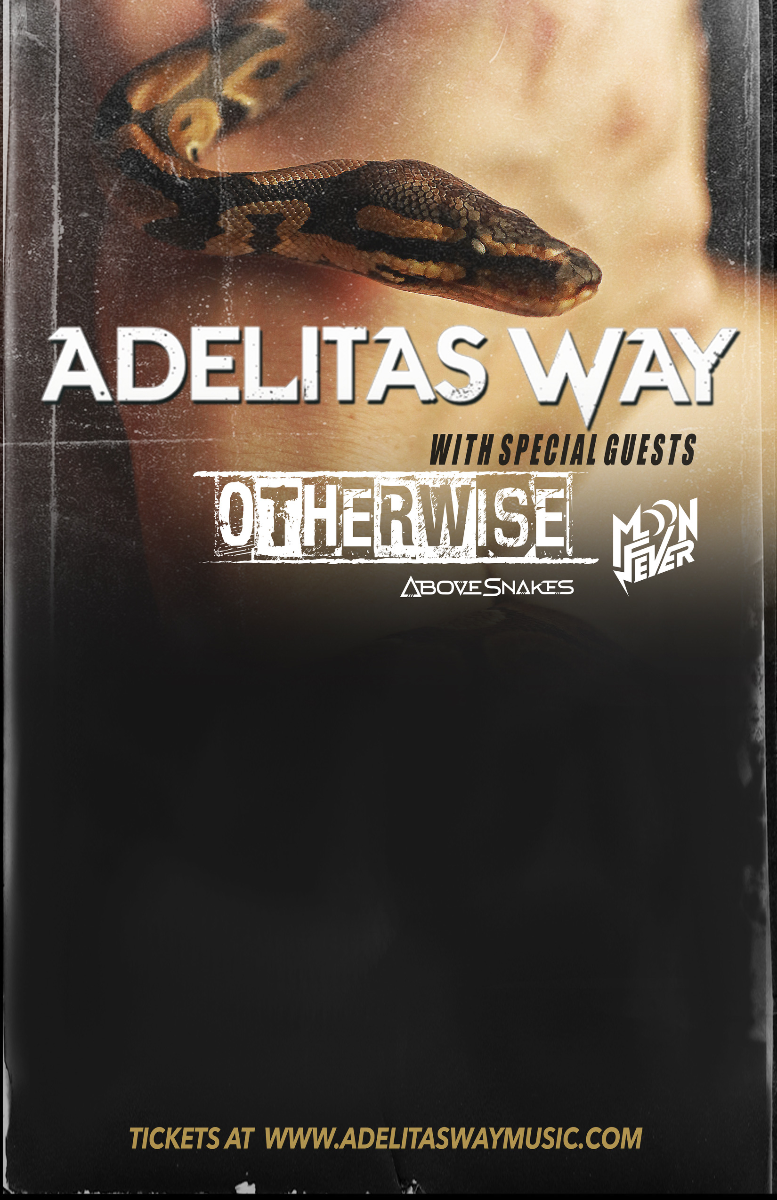 Adelitas Way
with
Otherwise • Moon Fever • Above Snakes
Wed,
May 17
@ 7:00 pm
( Doors:

6:00 pm

)
The Winchester
All Ages
Additional Info
Adelitas Way W/ Otherwise, Moon Fever, and Above Snakes
Wednesday, May 17th, 2023
Doors 6pm / Show 7pm
$22.50 ADV / $28 DOS
Adelitas Way is a five-piece rock group hailing from Las Vegas, Nevada formed in 2005. Their first single, Invincible, is the official theme song of WWE Superstars on WGN America, which first aired on April 16 2009. Since Invincible became so successful on the show, Adelitas Way were approached by the WWE staff and asked to write a song for the tag-team Legacy featuring Randy Orton. A New Day was penned and recorded and is now the entrance theme for Legacy. Invincible was featured on the CSI Miami Finale commercials which aired on CBS between May 11 2009 – May 18 2009.
A New Day is now the title track to the WWE's newest soundtrack, featuring songs from Story of the Year and Adelitas Way.
Adelitas Way released their first full-length debut album on Capitol/Virgin Records on July 14th, 2009. It garnered rave reviews from Tunelab and other music blogs, and sold over 2,000 copies in its first week. The album debuted at #16 on Billboard's 'Heat Seekers' chart, which features up and coming artists.
Invincible peaked at number four on Active Rock Radio charts and the album has sold over 12,000 copies to date.. Recent tours with the likes of Shinedown, Sick Puppies, Cavo, Breaking Benjamin, 10 Years, and Hurt have gained the band thousands of new fans.
Invincible is also featured on the new Smackdown v. Raw 2010 video game which is in stores now.
The band's new single, Last Stand, is set to hit rock radio on February 2nd. The video was filmed at the end of January in LA and features a storyline focusing mainly on lead singer Rick Dejesus. It should be released by the end of February.
Founding member and lead guitarist Chris Iorio left the band at the end of 2009. No reasons have been given for his departure, but he has been replaced by former The Leo Project guitarist Creighton Bibbs. Bibbs was replaced in 2011 by Robert Zakaryan.
Adelitas Way got their name from a very unorthodox source. While on tour on the west coast, their van was pulled over and eventually raided and thieved by corrupt Mexican cops who took all the money the band had, except for the few dollars Rick stashed in his boot. Disoriented and shaken from the experience, the band headed to the first bar they could find to calm themselves down. It was the Adelita Bar. After spending some time in there, the guys realized that it wasn't just a bar, it was a brothel. Rick ended up talking to one of the girls who worked there and asked her how she could live like she was day in and day out. She explained that it was the only way she knew to support her family in need. Talking to her helped change Rick's outlook on life and people, and thus the 'way' she lived became the inspiration for the name.
Artists